Diamond Lace Cardie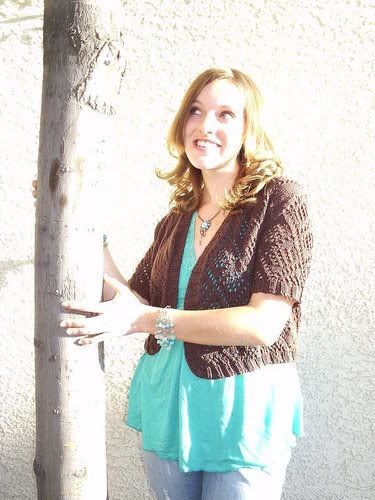 Diamond Lace Cardie
Yarn: Jaeger Aqua, color 315, 6 balls
Needles: Addi Turbo 32" #7
Pattern: my own

I love this little number. I've been saying since I finished, to anyone close enough to listen, "I'm going to wear this everyday for a month."
I'm still deliberating whether I should write up the pattern for sale or not. If I do, I'll make another and jot down more sensible instructions as I go, as opposed to the 6 or 7 pages of scribbled notes I have now.

I may just have to make another one anyway, because I *love* this sweater. The yarn? Another favourite. I'm developing ideas for a project with its lighter weight cousin, Jaeger Siena... a long sleeved, lacy v-neck to wear over a solid color tank. Hmmmm.....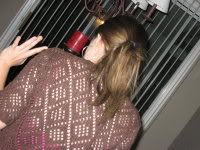 Diamond Lace Cardie in action.